Annual General Meeting for 2023
The AGM is an opportunity to review the progress of CDRJS during the fiscal year of 2023.
Importantly it is also the opportunity to set goals for 2022 and welcome new members to the Board of Trustees.
The Meeting is to be held on March 9th, 2023 starting at 5:00 PM MST, with two options for participation:
In-Person: Now that Covid is becoming more user-friendly we can open up our office . If this is what you would like to do:
a) please contact me vial email to reserve a spot
b) the office is located at #3 926 Baker Street in Cranbrook
c) The building is secured after 5:00 PM. If you are running late and the door is locked, phone 250-489-9622 and I will send someone down to welcome you in.

Via Zoom:
The Zoom Link for attendance is

or paste this into your browser: https://us02web.zoom.us/j/6689723603
Preparing for Participation:
The AGM is a public meeting so if you are interesting in membership at any level, please join us. I you know of someone who might be interested in the same, please share this link
The Agenda for those who will be connecting via Zoom is available as a pdf by clicking the following link. Please note that the document will show as a download in your browser.

AGM Agenda for 2023
Looking forward to sharing with you!
Link caption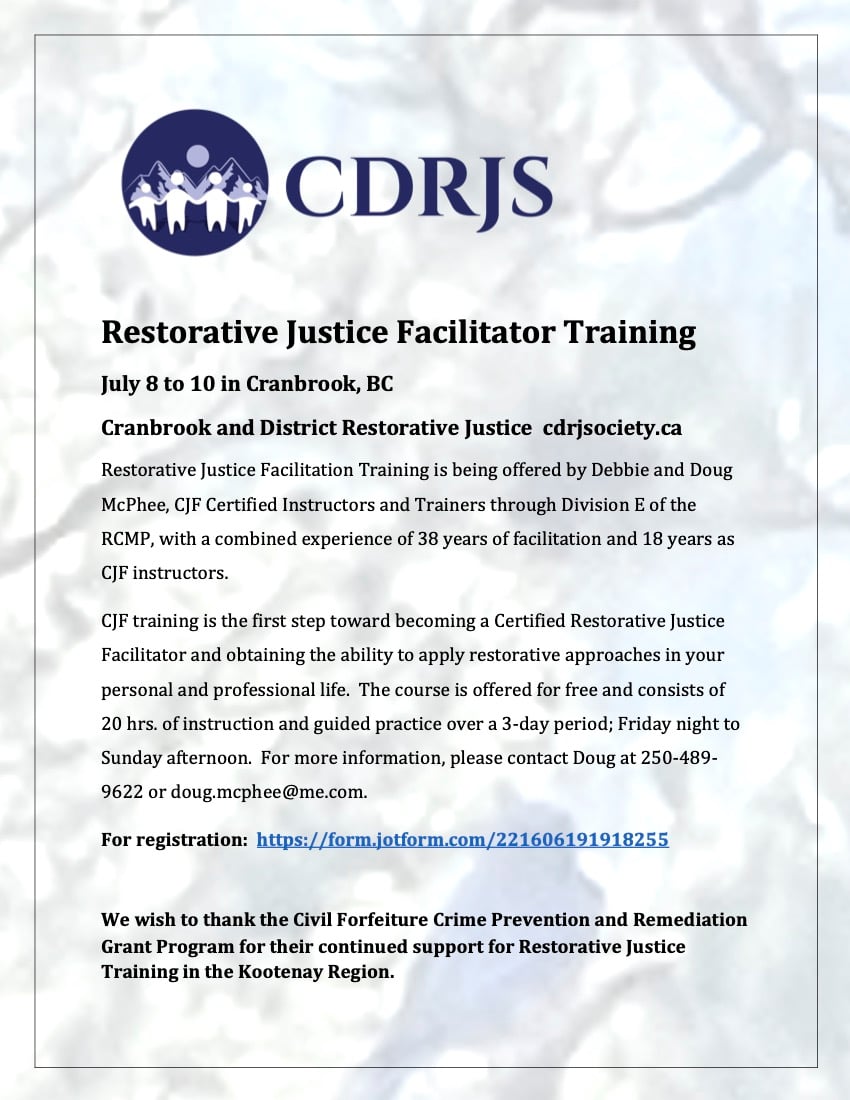 Restorative Justice Facilitator Training
July 2022
Registration Link
For more information or questions, please contact
Doug
Pdf of the poster
Natural Resource Officers
August 2021
Cranbrook
Background Photo Credit: Steve Cross

Kootenay and Boundary Region

November 2019

Cranbrook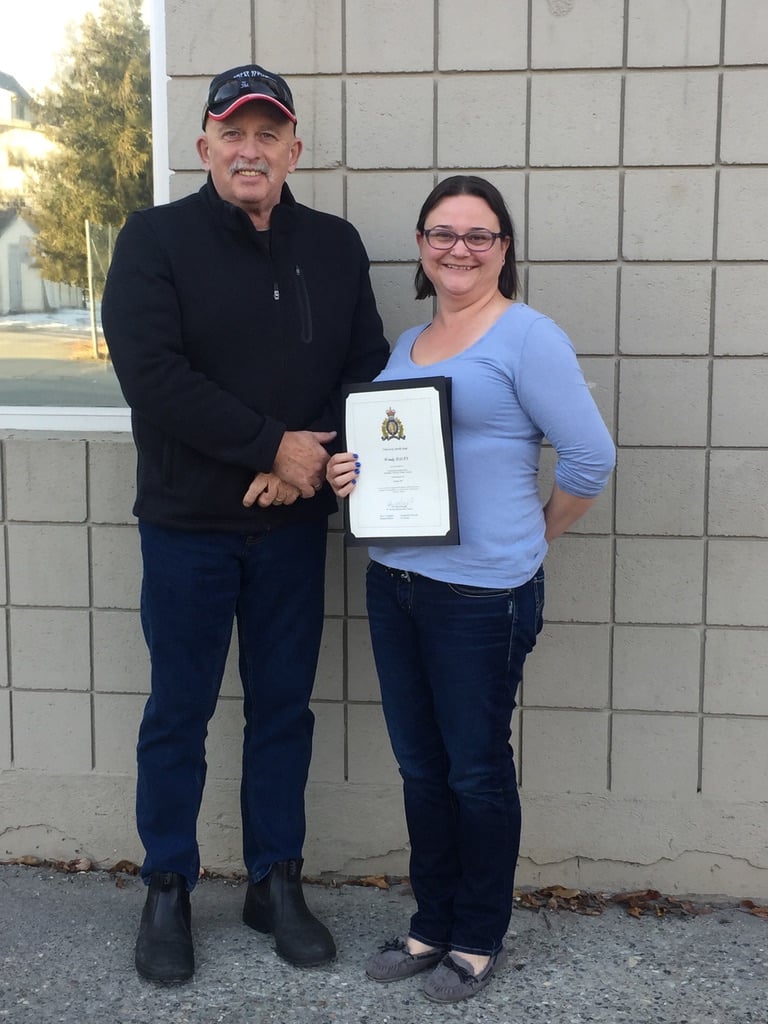 Certification!!!!
Congratulations to:
Wendy Haley (pictured left) from CDRJS
and

Michelle Epp
Sharon Kucher
Stephen Schneider

from the Greater Trail Restorative Justice Society
on their successful completion of the requirements for CJF Facilitator Certification. Well Done and thanks for contributing to your community through Restorative Justice Facilitation.

Youth Criminal Justice Act (YCJA)
Sections 4 to 12 of the YCJA provide measures that police officers and Crown prosecutors may take instead of instituting legal proceedings against a young person (young person defined as any person who has reached 12 years but is less than 18). These extrajudicial measures may involve taking no further action, issuing a warning or administering a caution, or referring the young person to a program in the community or
an extrajudicial sanctions program. Under the YCJA, whenever a young person has committed a nonviolent offence and has not previously been convicted of an offence, it is presumed that extrajudicial measures are an appropriate response to hold the young person accountable.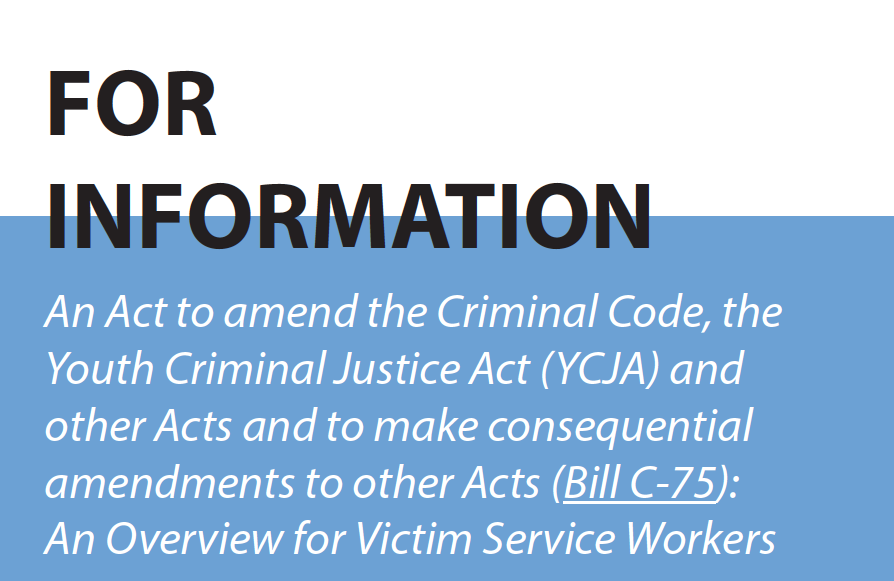 Click here to go to the Bulletin Page and a pdf of this release•

The following statements are taken from the Information Bulletin
Overall, the Act:
modernizes and clarifies bail provisions;
provides an enhanced approach to administration of justice offences, including for youth;
abolishes peremptory challenges of jurors and modifies the process of challenging a juror for cause and of judicial stand-by;
restricts the availability of preliminary inquiries;
streamlines the classification of offences;
expands judicial case management powers;
enhances measures to better respond to intimate partner violence;
provides additional measures to reduce criminal justice system delays and to make the criminal law and the criminal justice system clearer and more efficient;
restores judicial discretion in imposing victim surcharges;
facilitates human trafficking prosecutions, and allows for the possibility of property forfeiture;
removes provisions that have been ruled unconstitutional by the SCC; and
makes consequential amendments to other Acts.
CDRJS supports and provides Restorative Justice Facilitation.
The "other" benefits of are:
1. It is free. There are no dues or fees, we only ask that members are involved in some personal and meaningful way.
2. CDRJS is community-based program that focuses on community-based issues.
3. There are a variety of avenues open for involvement:
You can become a facilitator - we provide the training and mentorship;
You can participate on the Board of Directors - we are always looking for new directors and new skills foster new and exciting changes;
4. Raise funds and write grants - I know, there are some people, in addition to myself, who enjoy that sort of activity;
5. Suggest articles to be added to the website or newspaper - Suggesting also includes writing, but suggesting as a start is great.
6. Be involved in surveys or other forms of community input - We are currently looking for input into a new LOGO!
One of the recent initiatives is to create a new Logo for our two project areas: Cranbrook and District Restorative Justice and Humanity Network. We have contracted with Telus to come up with something truly amazing. In order for it to be amazing and represent our collective efforts, I prepared a survey with the information that Telus needs in order to get started.
The survey takes about 5 minutes and the benefit of your involvement will be to select one of the possible options that are created by Telus.
If you are currently a member of either CDRJS or the Humanity Network, check your email as I may have sent to a link to the surveys. If it isn't there, please drop me a line and I'll send the link
Doug McPhee.

If you would like to join and contribute in a manner which honours your interest, ability and most importantly your time:


"It means I am connected in some way to a restorative type of justice for the smaller felonies and that it can help both the victim and the person doing the crime to have a more restorative solution for both sides. Both sides do not then get caught up in the plugged-up court system."
Comment from the recent membership survey. Posted with permission.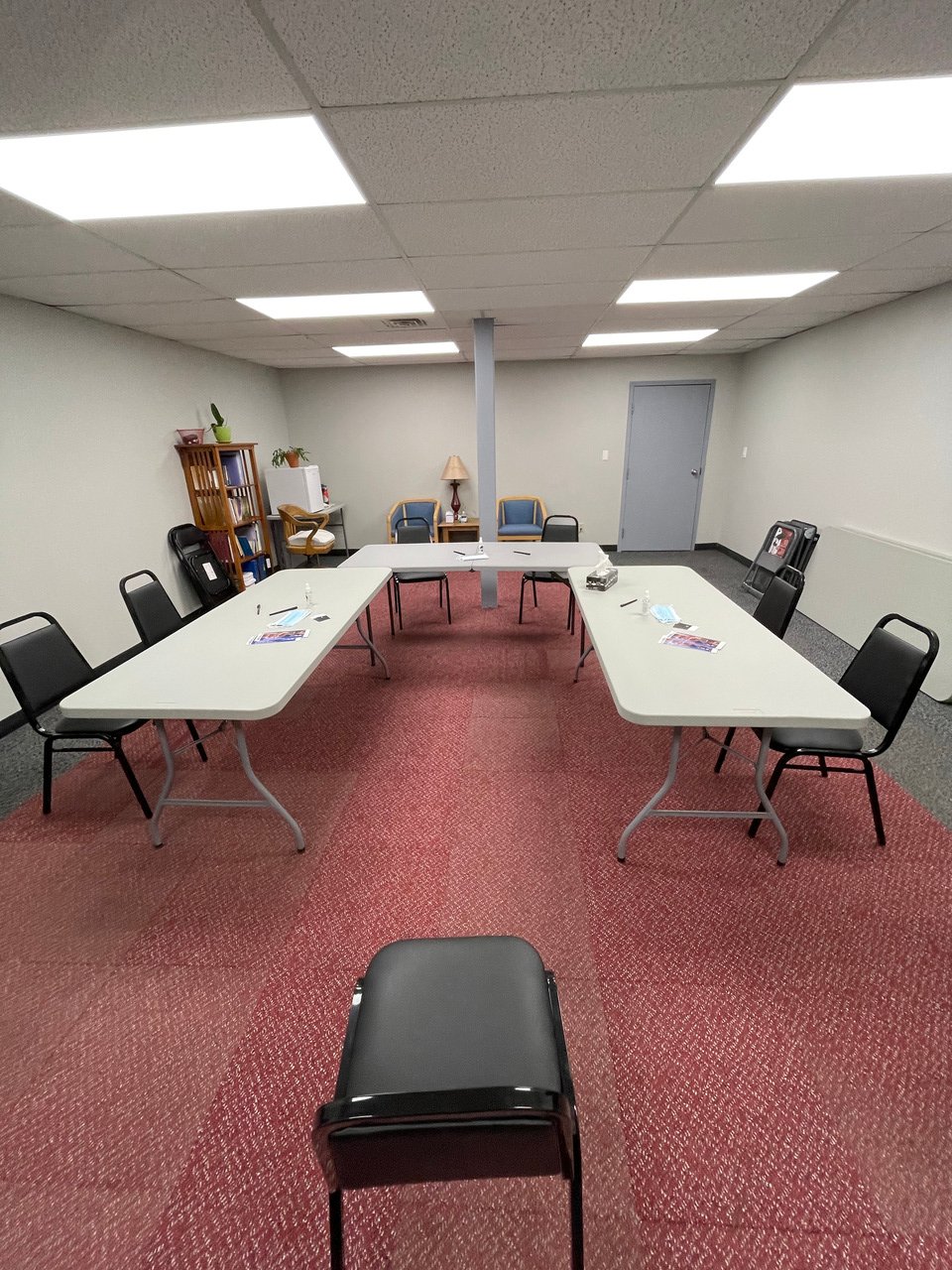 New Year and a New Location!
The difficulties associated with Covid-19 and the requirement to maintain appropriate Social Distancing have required our organization to find a new office space with addition room for group work. Our previous arrangement with Summit Services in Cranbrook will be greatly missed - great people and a very nice work environment.
I approached Jeannie Argatoff and Adam Stenersen with RE/MAX Blue Sky Realty and they kindly provided an excellent space in their building on Baker Street. It has been a good move for our program and it is reassuring when businesses such as RE/MAX make such a kind and positive contribution to CDRJS and the community. Thanks again!

Our new address: 926 Baker Street (upstairs to the right and down the hall)
Civil Forfeiture Grants 2021

CDRJS was awarded a grant from Civil Forfeiture to support training and coordination of Restorative Justice in this region.

"British Columbia is committed to a restorative justice approach that considers the involvement of victims, offenders and communities in achieving justice and addressing the harm caused by crime."
The Civil Forfeiture Grant program directs some the proceeds of crime back into services and opportunities which will support communities, identified groups who are experiencing or subject to criminal influences and programs such as CDRJS who work to support community engagement in community difficulties associated with crime.

We are grateful for the recognition and the financial support. We will offer training again when the Covid restrictions allow us to travel and hold training groups.

For more information on the Civil Forfeiture Grant Program,
click here
Funding for CDRJS
CDRJS would like to extend our thanks again to the organizations who have contributed financially to our continued operation this year:
City of Cranbrook
BC Gaming
Ministry of Tourism and the Office of the Solicitor General
Ministry of Public Safety and Emergency Services

Thanks again to CanadaHelps. This is a not-for-profit organization who works to connect donations toward worthy causes such as, and including, CDRJS. The link to the Fund Me page is in the footer section of this page.

It is important not to discount the hours of volunteer service provided by our board, facilitators and the committee member on the Humanity Network. Your work and contributions are greatly appreciated.
We would not have the success and opportunity to work with RJ referrals if it were not for the support of the local RCMP Detachments and Division E of the RCMP. Thanks!
Click to edit text. What do visitors to your website need to know about you and your business?
Thanks for the Support: Community Partners, Provincial Ministries and Support for CDRJS