Cranbrook and District Restorative Justice Society CDRJS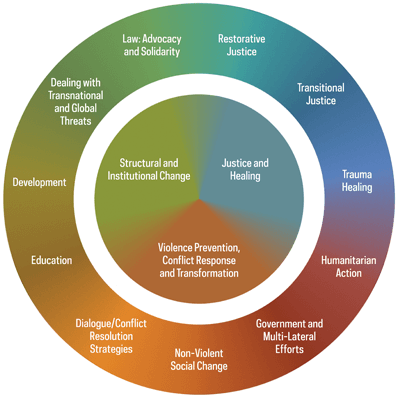 Strategic Peace Building
Peacebuilding is the development of constructive personal, group, and political relationships across ethnic, religious, class, national, and racial boundaries. It aims to resolve injustice in nonviolent ways and to transform the structural conditions that generate deadly conflict. Peacebuilding can include conflict prevention; conflict management; conflict resolution and transformation, and post-conflict reconciliation.
Peacebuilding becomes strategic when it works over the long run and at all levels of society to establish and sustain relationships among people locally and globally. Strategic peacebuilding connects people and groups "on the ground" (community and religious groups, grassroots organizations, etc.) with policymakers and powerbrokers (governments, the United Nations, corporations, banks, etc.) It aims not only to resolve conflicts, but to build societies, institutions, policies, and relationships that are better able to sustain peace and justice.
University of Notre Dame KROC Institute for International Peace Studies



Peace Building Definitions and Strategies
There is no single process or strategy used in peace building because no two situations are ever the same. However, the United States Institute of Peace identifies seven key components of strategic peace building to incorporate into any plan.
Recognizing the Burdens of Long-Term Violence

Eliciting Plans from Locals

Conflict Transformation

Insider-Outsider Links

Dealing with Spoilers

Identifying Obstacles to Strategic Peace Building

Elicit, Evaluate, Elicit, Evaluate…
Peace Building Definitions and Strategies, Sunday Moultan
How is CDRJS involved in Strategic Peace Building?
Strategic Peace Building is a multi-dimensional approach to improving world peace, community peace, positive community awareness and engagement. CDRJS has four significant project areas which directly support these concepts:
Restorative Justice: is a process which directly involves the community in addressing crime in the community. It brings groups of individuals who have been linked through a difficult situation and fosters a dialogue centered on addressing the harm done and encourages the potential for forgiveness.
Restorative Justice Training: Currently, the systems that we experience on a daily basis to regulate and control human behaviour are based largely on rule and consequences, a punishment based system. Rules and regulations are necessary in given situations. Restorative Justice outcomes are specific to the group who are engaged in finding that solution. It is conceptually different and requires a change in mindset in order to successfully facilitate. Punishment based solutions are simple in that it involves a matching process between act and consequence and because we have daily experience and history with that type of processing, it is relatively easy to overlay a punishment solution with the intention of doing restorative justice.

CDRJS trains and mentors the growth of individuals who wish to be Restorative Justice Facilitators.
EK Humanity Network
: CDRJS has recently been accepted as one of several provincial groups who will focus on addressing issues of hate and racism in BC. We are honoured to be given this recent recognition and support and it will further the previous work of OARH which CDRJS has been engaged in for the past 10 years. Provincially this initiative is called Resilience BC and we are exciting about the direct and support it will provide.
Hate and Race Based Incident Response: CDRJS is a local representative for the BC Hate Crimes Team. We work in conjunction with local and provincial RCMP to indentify, investigate potential crimes associated with offenses to self and indentity.
The BC Hate Crimes Team works with local police detachments to investigate the criminal offenses and to protect sense of self and identity. For non-emergency questions about hate crimes, resources, training or education, please contact the BC Hate Crimes Team:
Phone: 1-855-462-5733 (toll free)
E-mail: BC_Hate_Crime_Team@rcmp-grc.gc.ca
Taken from Report Hate Crime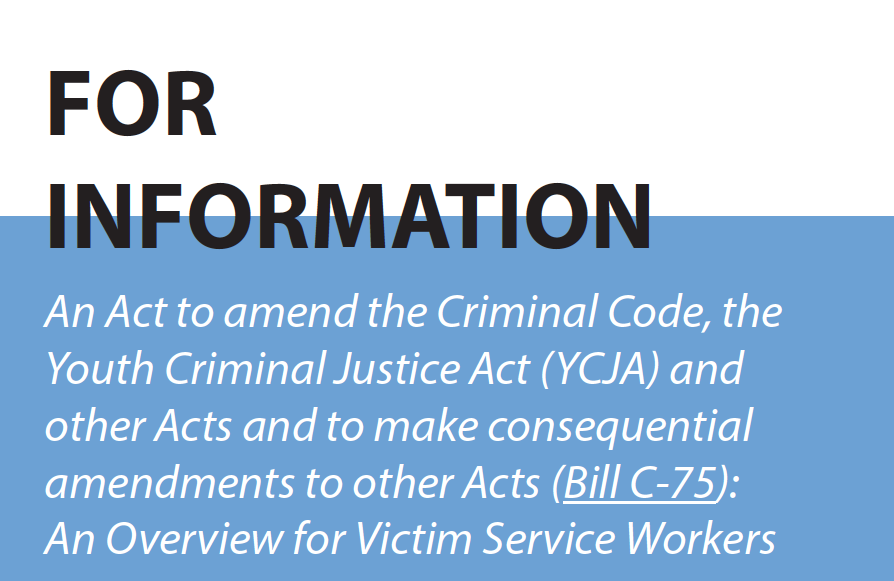 Click here to go to the Bulletin Page and a pdf of this release•

The following statements are taken from the Information Bulletin
Overall, the Act:
modernizes and clarifies bail provisions;
provides an enhanced approach to administration of justice offences, including for youth;
abolishes peremptory challenges of jurors and modifies the process of challenging a juror for cause and of judicial stand-by;
restricts the availability of preliminary inquiries;
streamlines the classification of offences;
expands judicial case management powers;
enhances measures to better respond to intimate partner violence;
provides additional measures to reduce criminal justice system delays and to make the criminal law and the criminal justice system clearer and more efficient;
restores judicial discretion in imposing victim surcharges;
facilitates human trafficking prosecutions, and allows for the possibility of property forfeiture;
removes provisions that have been ruled unconstitutional by the SCC; and
makes consequential amendments to other Acts.
Youth Criminal Justice Act (YCJA)
Sections 4 to 12 of the YCJA provide measures that police officers and Crown prosecutors may take instead of instituting legal proceedings against a young person (young person defined as any person who has reached 12 years but is less than 18). These extrajudicial measures may involve taking no further action, issuing a warning or administering a caution, or referring the young person to a program in the community or
an extrajudicial sanctions program. Under the YCJA, whenever a young person has committed a nonviolent offence and has not previously been convicted of an offence, it is presumed that extrajudicial measures are an appropriate response to hold the young person accountable.
Civil Forfeiture Grants
CDRJS was awarded a grant from Civil Forfeiture to support training and coordination of Restorative Justice in this region.

"British Columbia is committed to a restorative justice approach that considers the involvement of victims, offenders and communities in achieving justice and addressing the harm caused by crime."
The Civil Forfeiture Grant program directs some the proceeds of crime back into services and opportunities which will support communities, identified groups who are experiencing or subject to criminal influences and programs such as CDRJS who work to support community engagement in community difficulties associated with crime.

We are grateful for the recognition and the financial support.
For more information on the Civil Forfeiture Grant Program,
click here
CDRJS Annual General Meeting (AGM) for 2020
Was held on

March 12, 2020
4:30 PM
Room 202 – 125 10th Ave S, Cranbrook BC
Stepping Somewhere Different
We wish to thank Avery Hulbert and Brandon Veenstra for their service to CDRJS as Board Members and their contributions to the community through their support of Restorative Justice. Thanks and safe travels along your new paths.
Stepping Forward
We also wish to thank Shaunee Murphy for her recent appointment to the Board of CDRJS. Shaunee has an abundance of energy and interest in Restorative Justice. CDRJS and the community will benefit from her addition to the board and the contributions she will make.

For a look at the reports shared during the AGM, please follow this
link
Changes to the Constitution and Bylaws
The Constitution and Bylaws are a living document - as the society changes and growths, the document should reflect and record those changes. Following the AGM in March, there have been two changes made to the Bylaws and correctly registered with the BC Registry for Societies. The changes are also noted on our website and the full document can be view by following this link.
The changes:
Cycle for Criminal Record Checks
A requirement of the Ministry of Public Safety and Solicitor General, all individuals who are working directly with children and vulnerable adults must have an acceptable Criminal Record Check, CRC. In addition, under 4.10, Qualification of Directors, all Board Members must also maintain an acceptable CRC.
Prior to the recent changes to the Bylaws, there wasn't a cycle for re-examination of CRC for either facilitators or board members. The Bylaws now read:
2.3 Every member shall uphold the constitution and comply with:
(a) these bylaws
(b) the Society's Contract of Confidentiality
(c) the Notification Agreement
(d) maintaining an acceptable Criminal Record Check if working on the Board of Directors or unsupervised access to children and vulnerable adults
(e) the Criminal Record Check would be renewed on a cycle of 3 years (new 2020-03-12)
Quorum of Directors' Meetings
A quorum is established as the minimum number of individuals who have the responsibility of decision making in a formal meeting. If the minimum number of directors is not present at a meeting, news items and updates are discussed and items requiring decisions of the board are tabled for the next available opportunity. The usual standard for bylaws is the simple majority of the board plus 1.
With Covid, social distancing and the reliance on remote connection to meetings, there is a need to further define when business can be conducted. The Bylaws now read:
Quorum of Directors
7.2 The Directors of a Society may pass a Directors' resolution without a meeting if all of the Directors, or lesser number of those Directors, reach consensus on the resolution.
7.3 The minimum number of Directors present, online or in person is 2 in order to establish a quorum and conduct business. (new change 2020-06-16)
For full reference to the Constitution and Bylaws, please follow this link.
Restorative Justice Facilitator Training
The CJF Training session held in November 2019 was successfully concluded with 18 new facilitators.
Our next training sessions will be held when the current challenges associated with Covid 19 are at a point where social distancing permits safe and responsible work within small groups.

About the Training:
CJF Training - Community Justice Facilitator Training - Developed by Division E of the RCMP
Training to includes 20 hrs. of instruction, discussion and guided practice on:
The CJF Program
Trauma Informed Practice
Human Dignity as a Guide to Restorative Practice - Pontoon Boats vs Kayaks

Introduction to PeaceMaking
Application to other professions and personal life
Opportunity for full certification through the Mentorship Program
Opportunity for membership in CDRJS
Trainers: Deb and Doug McPhee
34 years of combined experience with facilitation in the community and school system
10 years of combined experience as CJF Trainers and Mentors

CDRJS would like to thank
Civil Forfeiture for the grant which made training possible.

CDRJS supports and provides Restorative Justice Facilitation.
The "other" benefits of are:
1. It is free. There are no dues or fees, we only ask that members are involved in some personal and meaningful way.
2. CDRJS is community-based program that focuses on community-based issues.
3. There are a variety of avenues open for involvement:
You can become a facilitator - we provide the training and mentorship;
You can participate on the Board of Directors - we are always looking for new directors and new skills foster new and exciting changes;
4. Raise funds and write grants - I know, there are some people, in addition to myself, who enjoy that sort of activity;
5. Suggest articles to be added to the website or newspaper - Suggesting also includes writing, but suggesting as a start is great.
6. Be involved in surveys or other forms of community input - We are currently looking for input into a new LOGO!
One of the recent initiatives is to create a new Logo for our two project areas: Cranbrook and District Restorative Justice and Humanity Network. We have contracted with Telus to come up with something truly amazing. In order for it to be amazing and represent our collective efforts, I prepared a survey with the information that Telus needs in order to get started.
The survey takes about 5 minutes and the benefit of your involvement will be to select one of the possible options that are created by Telus.
If you are currently a member of either CDRJS or the Humanity Network, check your email as I may have sent to a link to the surveys. If it isn't there, please drop me a line and I'll send the link
Doug McPhee.

If you would like to join and contribute in a manner which honours your interest, ability and most importantly your time:


"It means I am connected in some way to a restorative type of justice for the smaller felonies and that it can help both the victim and the person doing the crime to have a more restorative solution for both sides. Both sides do not then get caught up in the plugged-up court system."
Comment from the recent membership survey. Posted with permission.

CDRJS would like to extend our thanks again to the organizations who have contributed financially to our continued operation this year:
City of Cranbrook
BC Gaming
Ministry of Tourism and the Office of the Solicitor General
Ministry of Public Safety and Emergency Services

Thanks again to CanadaHelps. This is a not-for-profit organization who works to connect donations toward worthy causes such as, and including, CDRJS. The link to the Fund Me page is in the footer section of this page.

It is important not to discount the hours of volunteer service provided by our board, facilitators and the committee member on the Humanity Network. Your work and contributions are greatly appreciated.
We would not have the success and opportunity to work with RJ referrals if it were not for the support of the local RCMP Detachments and Division E of the RCMP. Thanks!